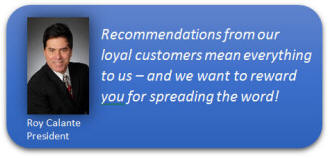 National Air has been rapidly and successfully expanding for over 30 years after opening in 1982. Just some of our specialties include air conditioning installation, repair services, as well as exceptional customer service. Our growth and experience have led us to become a flourishing and successful company, however, our achievements would not be possible without the dedication from our loyal customers.
Over these past several decades we have worked hard to make sure that 100% of our customers are truly satisfied with our work ethic, performance, and customer service. One way we would like to give back to all of our supportive customers, both new and old, we have recently initiated a new program called "Refer a Friend". This is both simple and beneficial to you and your loved ones.
Refer-A-Friend Rewards payouts to you:
$50 A/C or GAS FURNACE REPLACEMENT
$100 FOR COMPLETE SYSTEM INSTALLED 
Have a question about this program? Please call or contact us and ask about "Refer a Friend".
Your information is for internal use only and will never be shared, rented or sold. For more information, please view our privacy policy.