COMFORT CLUBTM PRIORITY SERVICE  – As a Comfort Club™ member, you are our priority! You can jump to the head of the line when you call. Your job will be scheduled ahead of others. This applies to routine and emergency calls.
The old adage is true: an ounce of prevention is worth a pound of cure. That's why we encourage business/home owners to become aware of our preventative maintenance program. We call it the "Comfort Club™". Below you'll find our Preventative Maintenance Checklist, which is our proven method to keep your system in the pink and your home or business in constant comfort.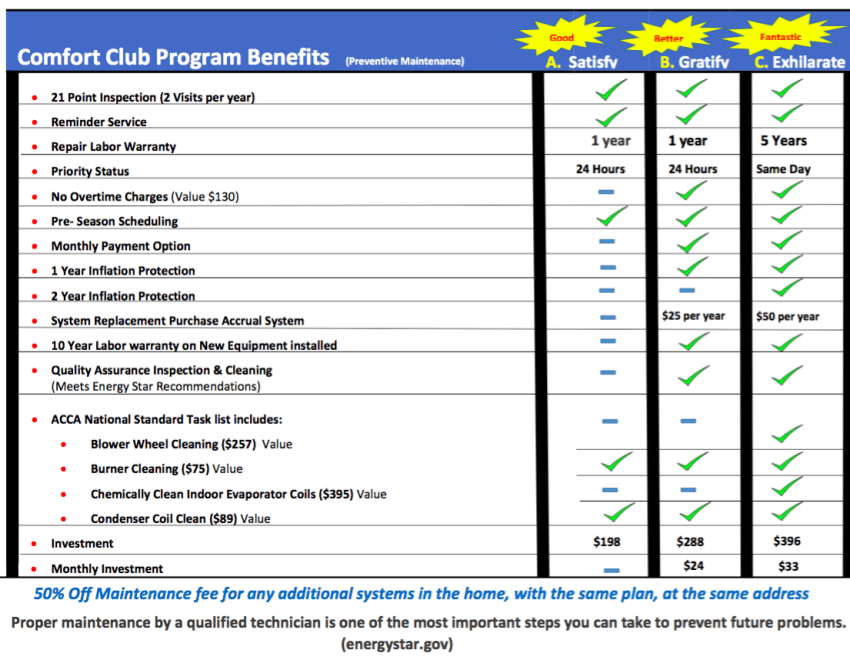 National Air Priority Service 5 year Parts & Labor Warranty
10% Discount on Service Repairs w Save Money on Utilities
Annual Safety Inspection and Tune-up
Fewer Repair Bills
Greater Safety and Peace of Mind
Discounted Service Call Fee
No Emergency Call-Out Fee
Extended Equipment Life
– Spring and Fall check will be performed during regular working hours, Monday through Friday, 8:00 am – 5:00 pm.
– Coverage Period ends December 31st and is renewed upon receipt of payment on or before December 31st of each year. Non-payment results in termination.